Photo: Jesper Lundgren
Welcome to the world of video game rock artist Mutherpluckin' B!
Here you'll find my own versions of music from classic video games, mostly influenced by '60s, '70s and '80s music styles. So far I've recorded four albums and a few videos and participated in several vgm related collaborations. Feel free to download or buy my records and comment and share as you like.
— Mutherpluckin' B
27 March 2016 – New song release!
For the
2016 music competition at smspower.org
, I have made this cover of the Danger Zone tune from Wonder Boy 3. Lovely keyboard playing by Killed By Koopa alumni
KGS
(rest of the instruments by me). Hope you like it!
19 February 2016 – New music video
Finally, my music video for the Spark Man song on The Mushroom Variety Show album is cut and out! Watch it on youtube right here.
12 December 2014 – Super VG Christmas Party is here!
This is an awesome 42-track compilation of christmas/winter versions of video game songs, produced by Ian Luckey of
Kirby's Dream Band
and featuring many artists such as Random Encounter, CarbohydroM, The Oneups, Megabeardo and many more. I'm featured on one track, a disco/orchestra influenced cover of Alpine Peak from Donkey Kong Barrel Blast, assisted by five friends. Listen/download for free at
the album's Bandcamp page
, and
check it out on Facebook
.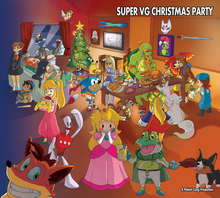 14 October 2014 – Further plans for The Mushroom Variety Show
Thanks to all of you who contributed to my IndieGoGo crowdfunding vinyl funding campaign! Unfortunately, we didn't reach the goal to produce a vinyl edition, but I did make a small amount of money which will definitely be invested in Mutherpluckin' B items, be it t-shirts, posters, Spotify releases or simply new music. Stay tuned for more information!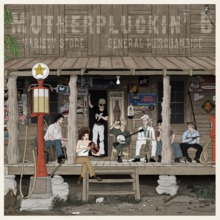 9 April 2014 – new Mutherpluckin' B song on Turtles 4 collab
The world's most fearsome remixing team, headed by Kyle Crouse, backed by
OCRemix
and featuring Mutherpluckin' B, has just released
Teenage Mutant Ninja Turtles: Shell Shocked
. 22 tracks of pizza power, and it's completely free!
28 March 2014 – New Sunsoft song out!
When
Dwelling of Duels
announced Sunsoft Month, I couldn't abstain from participating with one of my favourite vgm songs ever,
Strange Memories of Death
from the game Gimmick!. My version, featuring Killed by Koopa keyboardist
KGS
on synthesizer, was voted 5th and will appear on a future Mutherpluckin' B album (though not Mushroom Variety Show). Until then,
you can hear it on youtube
.
Quick discography:
(click to listen)